Spring has sprung or hopefully is about to and with that the release of a new Colourpop Mystery Box has hit their website! Back in November, the one black friday deal that stuck out to me was the Colourpop Mystery Box.
A $49, Black Friday exclusive, Mystery Box!!!! I'll be honest, I am usually not one for mystery boxes because they can be a bit underwhelming, but there was just something about this one. The description said the box included around $150 worth of Colourpop products and they have so many amazing collabs that I was praying I would not be disappointed. So that's why we are here. I wanted to break down what I received in my Colourpop Black Friday Mystery Box so you can decide for yourself, if it is worth it!
Keep in mind the Spring Colourpop Mystery Box, per their website, is valued at around $120.
The first thing I noticed when I opened my box, was a lot of licensed items! When I ordered the Coulourpop Mystery Box I did not expect to receive any of the licensed items (ex. Star Wars, Barbie, Hello Kitty, etc.) So this was already beating my expectations!
So first let's talk lips!
The Day is Saved by the POWERPUFF GIRLS! Seeing Powerpuff Girls lip glosses inspired by each of the girls had me shook! The packaging is so cute and each of the 3 glosses are a great addition to any makeup look!
With the next gloss I received I was transported back to the nostalgia of classic Disney shows. Hey Now, Hey Now… this is what dreams are made of! The shade Lizzie from the nostalgic Lizzie McGuire collection is a plumping gloss that leaves a sleek shine that is maximized with hints of rainbow glitter! Totally something I could see Lizzie wearing.
The last gloss I received in my Colourpop Mystery Box was the Colourpop Ultra Glossy Lip in the shade Atta Girl! It is your typical clear gloss with what seems to be purple and blue glitter in it! My fav colors, so love to see that!
I also receive 2 of their LUX Liquid lips. The darker shade, Zoom, was perfect for the fall and winter! Honey Pie, is the one I am looking forward to rocking in the spring and summer months! The shades are extremely soft and leave my lips feeling moisturized after wear. I have found that they can transfer so always keep them on hand for repplication!
Next let's look at what they sent for the eyes!
The first 2 things in the box were Colourpop Colour Stix. I recevied the shades Warm Up and Hot Stuff. Both metallic. These creamy eyeshadow sticks can add pigment and shine to any look!
I think the thing I was most excited to play with was the Malibu Barbie eyeshadow palette. There are so many fun vibrant shades to make eye looks pop. Not only that, but there are plenty of neutral shades for a quick natural look. This palette has everything!!!!! The Barbie girl in me was so excited to find this in my Colourpop Mystery Box.
Lastly, I received the So Fly palette. With 9 stunning shades this palette can create an array of looks from smokey eyes to soft glam looks. I absolutely love the fact that this is a pink toned palette because pink shadow is my obsession!
Face it! It'd be obsurd if they didn't include face products.
I received 2 different blushes. One had me squealing in excitement and nostalgia while the other left me excited to try something new.
Are there any other Hello Kitty fans here? I have the squishmallow, the Hello Kitty Vans, and more. I LOVE Hello Kitty! I was floored to receive the Hello Kitty Blush in the shade Aloha Honey. Hello Kitty's face is in the blush so it's one of those only for special occasion items so I don't ruin the outline. The shade is beautiful and the formula is amazing, like most Colourpop products!
I have not really been one for liquid contour or blush so I am excited to try the Colour Pop Cheek Dew! The Cheek Dew is a serum blush. I've seen plenty of beauty influencers use it and rave about it, liquid blush just scares me a bit. In my Colourpop Mystery Box was the shade Bubbles.
Misc. Items
The last item that was tucked away in my Colourpop Mystery Box was the Grogu, or The Child, Hand Mirror. I already have the Colourpop The Child Palette so this mirror was the perfect addition to my collection. The Star Wars fan in me was extremely happy to see it in my mystery box.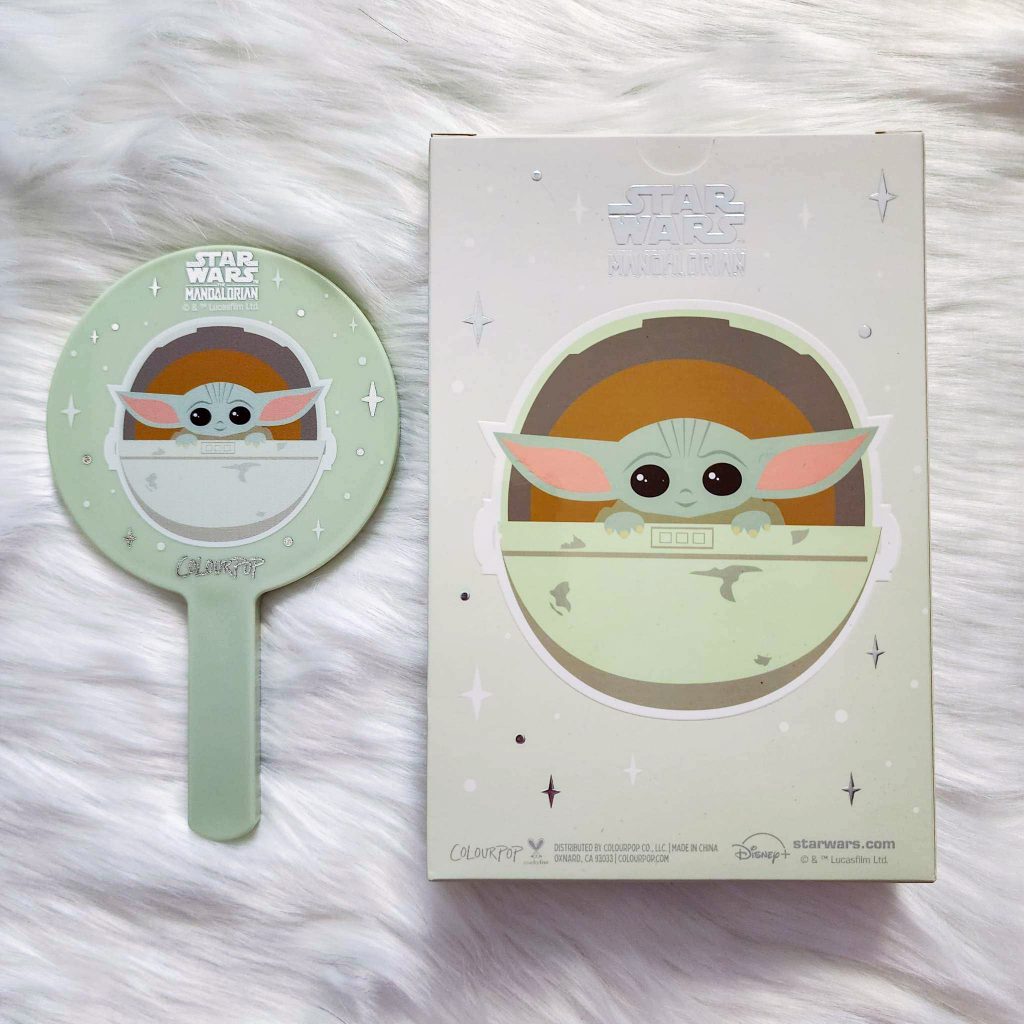 Final Thoughts!!!!
For me this box was definitely a hit! It was like the person who packed it knew what nostaglic things to pack and what characters I personally loved. For the price they pack the box with an amazing variety of Colourpop products. When I did the math back when I received the box it totaled up to around $149 worth of product. I was honestly expecting to be let down but here I am planning to order another one when I get the chance! I love the mystery of it all and knowing that you actually get your moneys worth makes me love it even more.
Are you planning to order the Colourpop Mystery Box? Have you ordered one in the past? I'd love to know what you have received or what you would change about it if you could!

PIN IT BELOW!