Sponsored post on behalf of Nuby; however all thought, opinions, and words are mine alone. 
One thing that I have learned during the past few weeks is how to handle traveling with a toddler. Whether it is a 3 hour drive turned 11 hours or a 2 hour drive to the Children's Hospital, I think I have mastered keeping a toddler comfortable in he car. I have different essentials for different length trips but all are must have if you are going to be traveling any distance with at least one toddler anytime soon. All items are linked at the end of the blog post AND be sure to read to the end for details on a fun giveaway!!!
For shorter, (30 minute-2 hour) drives to town or to Dallas for Joshua's check ups I love to pack our NUBY Snack N' Sip. It is so convenient because you can put it all in one container instead of having multiple things packed for the short drive. The snack compartment is perfect for goldfish or smaller dry snacks to keep the little ones' belly satisfied for that small period of time.
Fill up the drink portion and you are good to go!
For the longer drives, that will be happening quite frequently, I like to pack Joshua an insulated sippy cup to help keep his drinks colder for longer.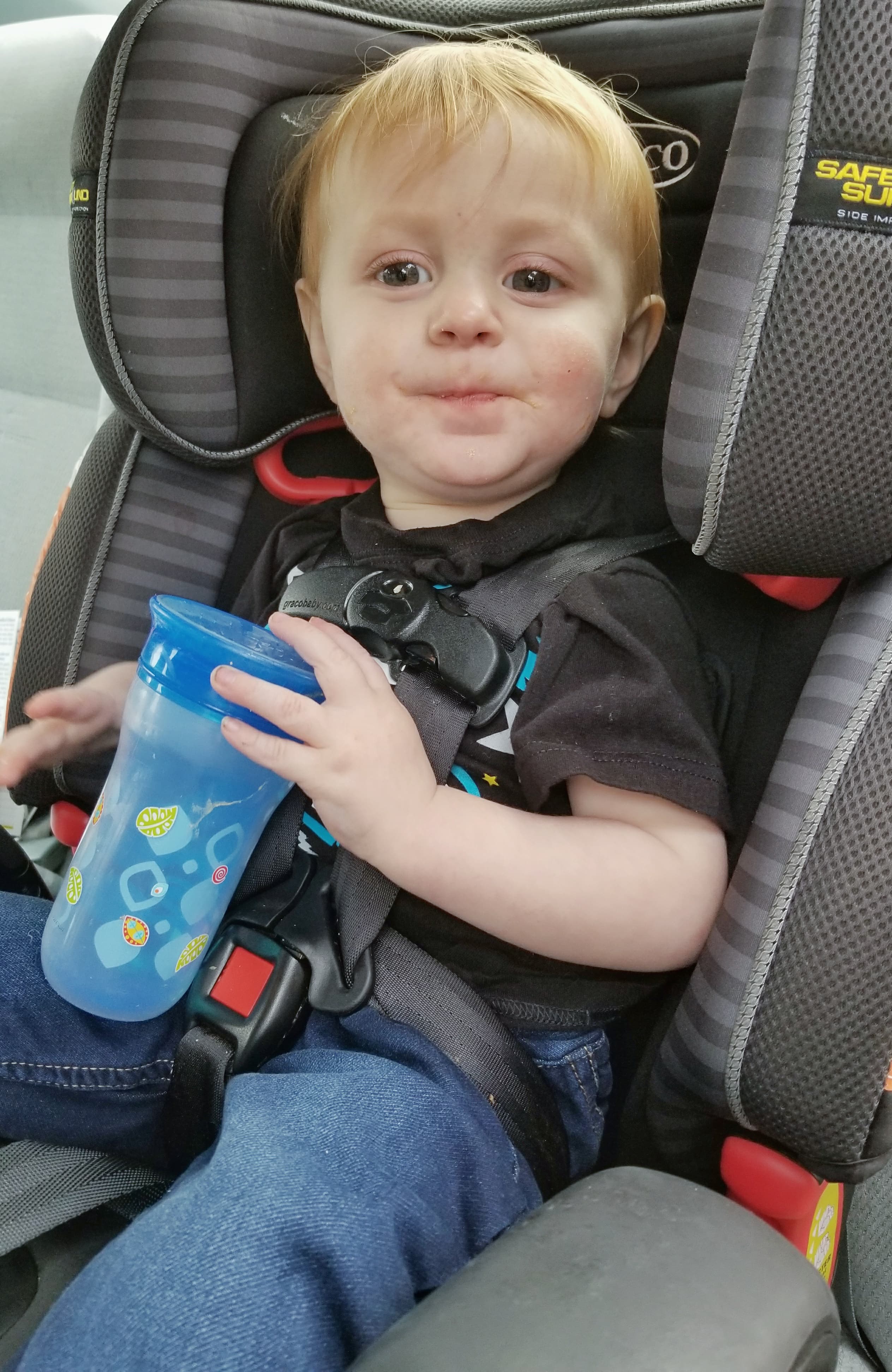 Right now he is absolutely loving 360 Cups, so this insulated one from NUBY is a must have for long road trips. If he goes anywhere he has to have his sippy cup with him and it has been hard for us to find one that will stay cold on our long drives to visit family in Lubbock. That is why I love that NUBY has an insulated option!
Of course you can't forget about the snacks! What is a road trip without snacks?! As I said above for the shorter distances, the NUBY Snack N' Sip is perfect, but when traveling longer distances I like to pack little containers of different options. NUBY has a 3 pack of stackable travel containers that you can purchase that will ensure that you can pack whatever variety of snacks you want for your road trip. No need to choose between sweet or salty when you can have both. Honestly sometimes I even pack Joshua a PB&J for he longer trips!
We used to not travel often but after Joshua got sick we have had to travel every 2 weeks so I'd like to think I'm slowly becoming a professional at traveling with a toddler. I'm sure there is more I can learn to help make traveling easier so be sure to leave any traveling tips or tricks that you have in the comments below!
Also before you click away be sure to head over to my instagram because I am giving away a Nuby Snack N' Sip! Joshua absolutely loves this snack cup so I know your toddlers will too! The giveaway will go live at 2pm CST!
As Always Keep Smiling,
Jennifer Brock