This post is sponsored on behalf of Oriental Trading Company; however all thoughts and opinions are mine alone!
Halloween is right around the corner and this will be the second time that Joe and I will be wearing a couples related costume. Our first Halloween together we were Jack and Sally from Nightmare before Christmas and now, 3 years later, we are going to be in costumes that most may not realize can be considered a couples set. We decided that this year we are going to put our own twist on the "It's Complicated" bromance between the merc with a mouth and your favorite friendly neighborhood spider.
Deadpool is my all time FAVORITE Marvel character and Joe has always been obsessed with all things Spider-Man, so this couples costume is a match that breaks through the 4th wall.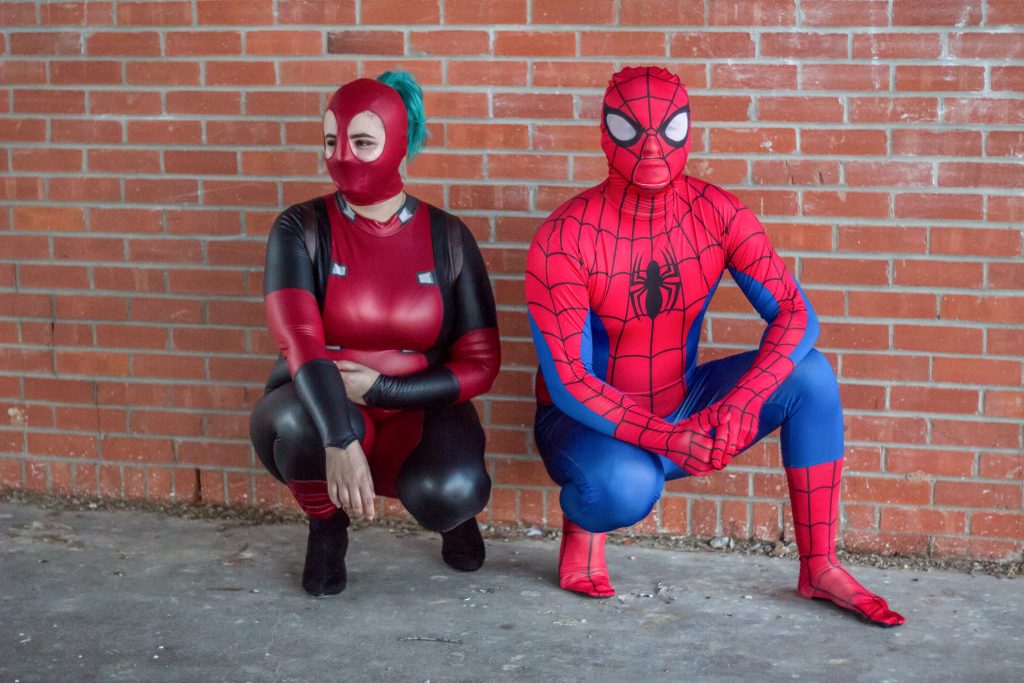 You can purchase both of these costumes as well as additional accessories from Oriental Trading Company! My costume came with the bodysuit, mask, and Dead-Pool Utility belt. I have been wanting a Deadpool morph suit for years but never took the plunge because none of them were made for women. Well as you can tell I finally took the plunge and now own a full Deadpool costume! This is the first time that I have seen a women's costume available and my heart soared. I ordered the Women's Secret Wishes Deadpool Costume in a size Large and everything fit perfectly with the exception of the utility belt. The belt is a little snug which is why it is not seen in all of the pictures, but overall I love the fit of this costume! You can also purchase the Deadpool Weapons Kit to make you costume complete. Unfortunately my weapons kit got here after we took the photos so it is not pictured here but I will say that they are the perfect addition to your costume if you are wanting the whole Deadpool look and feel!!
The Spidey-Suit is your ideal morph suit with a built in mask, gloves, shoes, and all that jazz. My husband absolutely loves this suit and will be wearing it for more than just Halloween.  We shot for this blog post in the downtown area of our city with Stephanie Crank Photography and as Joe was running to and from the car in his costume a little kid and his family saw him and asked us if he could have a picture. It was by the far the sweetest thing ever!  
Although we love the idea that the feet are attached to the costume but Joe did say they were a little bit of a tight fit. If you can get over that then this costume is perfect for any Spider-Man fan. For size reference Joe ordered a large and as I said above it fits him perfectly with the exception of the feet.
What will you be doing this Halloween? Will you be dressing up? If so I would love to hear some of those fun costumes!
As Always Keep Smiling,
Jennifer Brock