Sponsored post on behalf of Hard Night Good Morning. All text and opinions are my own.
"Hi, My name is Jennifer and I am obsessed with face masks."
In the beauty industry new trends are always popping up. The one trend that seems to have taken 2017 by storm is FACE MASKS! Everyone seems to be addicted to every kind of face mask out there. No, I am not talking about those creepy Halloween masks. I am talking about peel masks, clay masks, sheet masks, and gel masks. I'm sure there are other ones out there but these are the four that I have seen taking the world by storm and have actually tried.  In this post I won't be getting into the peel mask because I feel like that specific type of mask deserves a post all of it's own, but I will be touching on the other three that I mentioned.
Before this craze took over the beauty industry I had only tried MAYBE two different masks from Walmart.. like those cheap dollar ones that smelled weird and made your skin all red and tingly, you know what I'm talking about. Because of that it took me a lot longer to hop on this craze than it should've. Let's just say there are some good brands of masks and some not so good brands.
One of the skincare brands that I have been obsessed with since November of last year is Hard Night Good Morning. Like I use their products daily. They make a phenomenal makeup remover face wash that is so gentle you can use it to clean mascara and glue off of those oh so trendy false eyelashes that everyone is also obsessed with nowadays. Their serum makes a great lightweight primer if you have great skin but when my skin is in its problemed, I-wish-I-was-a-teenager-again days I have to use something heavier. The toner works GREAT on razor burn and sun burn, but we aren't hear to talk about those products. We are here to talk about our mask obsession.
So the three masks that I will be sharing with y'all are the Detox Mineral Masque, the Cooling Cryo Mask, and the 24k Gold Anti-Aging Mask. All these masks target different areas and they all have things that make them unique and special.
I'll go ahead and start with the Detox Mineral Masque. Unlike the other two I will be sharing with you, this mask is clay based. This mask's target points are skin eveness and luminosity, oxidative damage, metabolic function, and of course deep cleaning those pesky pores. Out of all the masks that I have tried for cleaning my pores out this mask has provided me with the best results. I have tried 2 different peel mask, a homemade clay mask, and this mask from Hard Night Good Morning.
When applying the Detox Mineral Masque, I used a fun little cosmetic brush, but you can also use your fingers. Having tried clay masks before I knew the general idea of what this mask was going to feel like. It goes on a burnt orange color and as it dries and hardens it turns into a tan and actually started to blend with my skin. One thing I noticed as it was drying was you can see the mask really getting into your pores. You don't have to wait and hope it actually cleaned them. Once the mask was dry, the color blended with my skin but when I looked closely my pores were all darker in color showing that the mask actually got in and did it's job.
If you are in need of a little spa day or you are dealing with an insane sunburn this next mask is one you will be interested in. The next mask is the Cooling Cryo Mask. This mask is a sheet mask, and to be honest with you I had never tried a gel or sheet mask before using the Hard Night Good Morning Masks. This mask is so worth it, I did not want to take it off. Words cannot describe how my face felt, but I will do my best to paint you a verbal picture.  Usually when I think of something that has a cooling sensation I am scared that it will be an annoying feeling and eventually get too cold, but that is not the case with this mask. This mask leaves your face feeling refreshed. It is definitely one of the most relaxing face masks I have ever used!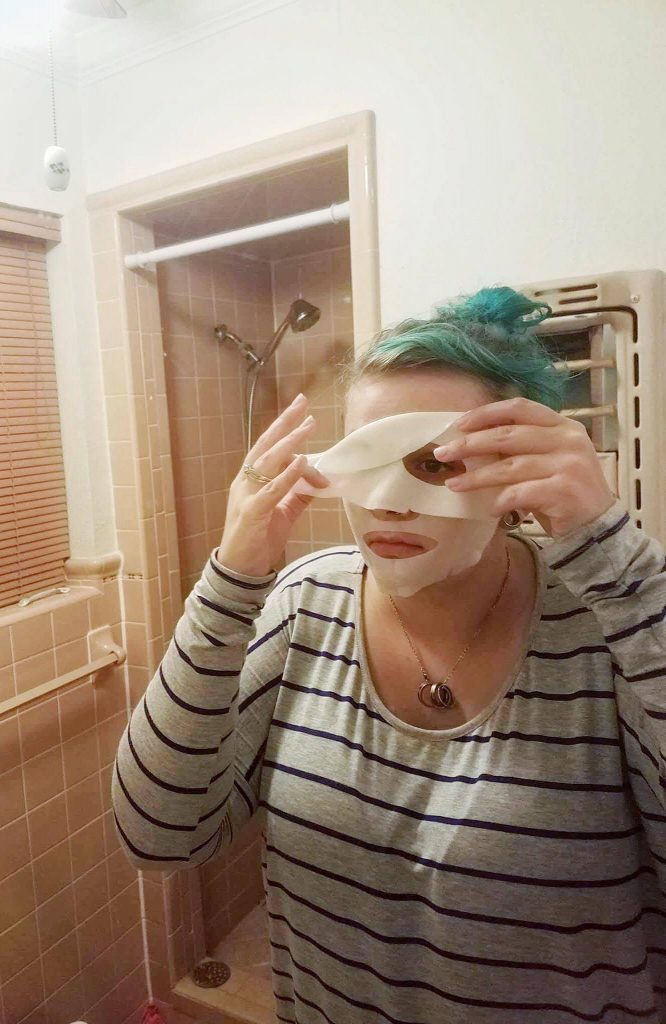 The Cooling Cryo Mask is full of vitamin E and pomegranate extract to help fight against free radical damage, it stimulates collagen production to help fade the appearance of fine lines and wrinkles, and it has hyaluronic acid to help bind moisture to the skin for a hydrated, luminous appearance. When using this mask I put it in the fridge for 20 minutes and applied the Hard Night Good Morning Serum to my skin so that it would help serum absorb into my skin.
Lastly I will share the 24K Gold Anti-Aging mask with you. This mask felt so weird to put on because as I mentioned previously I have never used a gel or sheet mask before. Unlike the Cooling Cryo Mask this mask was a thick gel like texture soaked in it's liquid ingredients. It's crazy the things we will put on our face for the sake of beauty. I felt like the mask was going to fall off if I stayed up and did something so I was forced to take a break, lay down, and relax.
This mask has a long list of things it does so I will share some of my favorite benefits with you. If you have oily skin the 24k Gold Mask helps reduce excess oils all while providing the needed nutrition and hydration to help revitalize and detox the skin. The mask also has advance activated 24k gold that has a magnetic effect to draw impurities and toxins from dehydrated, congested pores. I guess you can say this mask is full of 24K magic. Those are just a few of the anti-aging benefits that this mask has.
Out of all the masks if I had to choose a favorite I would definitely pick the Cooling Cryo just because I have not had a mask leave my face feeling so refeshed like this one did. If you want to fuel your face mask obsession be sure to head over to HardNightGoodMorning.com to take advantage of their big August sale. Everything is 21% off for the month of August so be sure to stock up!
What is you favorite kind of face mask? Let me know in the comments and share this with someone who is obsessed with good skincare.
As Always Keep Smiling,
Jennifer